Dict-Na'vi.com Anki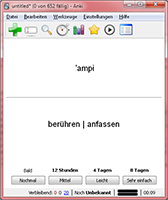 Learn vocabulary specifically with Anki!

Anki trains your memory and supports your learning by constantly quizzing previously input data like vocabulary or other. The program analyses, f.e. which words were answered correctly and consequently carries on quizzing more of the words answered incorrectly. Anki also offers the facility to listen to vocabulary, which exist as audio-files. Vocabulary and audio-files of Dict-Na'vi.com are available for this program.

Download present vocabulary: dict-navi.txt
Download present audio data: dict-navi.media.zip

See also: jMemorize


Importing vocabulary:
Download the list of vocabulary and audio files, if you wish to use them.
Open Anki-program and click on [file] -> [import].
Chose

dict-navi.txt

and import this file.
In the new import-window just click on [import]. You will receive a status report shortly after.
Note: the status report may point out, that various vocabulary exists twice. The reason for this is that the exact meaning of a word may be uncertain and therefore is listed twice with each separate meaning.
Close the status report and click on [file] -> [save as].
Chose the storage location and a name. Now you can start to study using Anki without utilizing the audio files.
However, if you do want to be able to use the audio function, go to the storage location, where you saved the Anki-file. Set up a new directory with the name of your file and

.media

. For example, if you called your folder

dict-navi

the name of the directory for the audio files must be called

dict-navi.media

.
Extract the audio files from the

dict-navi_audio.zip

archive into this directory. Now Anki will pronounce the word for you, if you have the appropriate audio-file.